The official site of the

Bet Yosef Synagogue

אתר הרשמי של בית הכנסת

17 Shimoni Street

Jerusalem Tel 02 679 0120
NEW!! Children's Service every Shabbat morning after Gelila.
Meet at the entrance to the shul and all walk down to the gan via the internal staircase to the basement.
Read the Jerusalem Post Review!
The February 2007 Liturgical Music Concert was a great success and the next concert is being planned for Chanukah 5769
קונצרט המוסיקה היהודית בט"ו בשבט תשס"ז שהרווחים היו מיועדים לשיפור הנגישות לנכים בבית הכנסת היה מוצלח מאוד הופיעו החזנים דניאל חלפון (מוזיקת בית כנסת פורטוגזית וספרדית) ונתי ברעם עם מקהלת גברים ורביעיית ילדי בית הכנסת. בפסנתר – אליהו זבלי.
The 2nd Bet Yosef Concert of Jewish Music featured:
Cantor Daniel Halfon - Spanish and Portuguese Synagogue Music
Cantor Naty Baram - A Programmme of Chazanut
Eliyahu Zabali - Concert Pianist
Kolot Haesnoga Singers
Bet Yosef Youth Quartet
This site is not updated as often as we would like. If you can help please do contact the office. Meanwhile, please join our Yahoo group (see on right) to keep on top of the news!!
Why not join Bet Yosef now! One of Jerusalem's most dynamic congregations! Family membership for 5769 only NIS700 with even lower rates for students and newly marrieds.
SUNDAY NIGHT FORUM October 28th 2007
Chazan Daniel Halfon spoke on:
'The Odyssey of Sefardi Music'
Justice Yaakov Turkel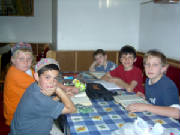 Children's Chug Mishnayot in Full Swing!
Cornerstone laying Ceremony 1971
Chazan Shmuel Segal, the late Reb Noach Ben Chorim, The Late Mr Bet Yosef and others
To send a message to the shul, click here
Chairman's Report, Rosh Hashana 5766
Bet Yosef Youth Ensemble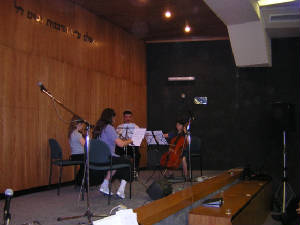 Report of 1st Bet Yosef Concert of Liturgical Music